The Research Unit
---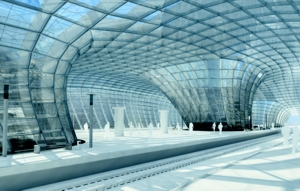 Geometric Modeling and Industrial Geometry
is a research unit at the Institute of Discrete Mathematics and Geometry, Vienna University of Technology. We are performing application oriented fundamental research and industrial research closely connected to geometry.
Research activities are reflected in the EU project Architectural Freeform Structures from Single Curved Panels (2009-2013), an FWF project on Shape space methods in geometric design (2011-2014), the EU project Geometric manufacturing solutions for freeform shapes (2012-2016), and the DFG-Collaborative Research Center `Discretization in Geometry and Dynamics' through an FWF project on Discrete geometric structures motivated by applications in architecture (2012-2016).
Our research focuses on discrete and computational differential geometry, geometric optimization, surface matching and registration, computational line and sphere geometry, and architectural geometry.
o.Univ.Prof. Dr. Helmut Pottmann
Head of Geometric Modeling and Industrial Geometry Group
Vienna University of Technology
Wiedner Hauptstr. 8-10/104
A-1040 Vienna, Austria
Email: pottmann(at)geometrie.tuwien.ac.at
Web: http://www.geometrie.tuwien.ac.at/ig/
---
We offer courses for students of
architecture
, civil engineering, computer science, geosciences,
geometry education
, mathematics, and mathematics education. More information can be found at
http://tuwis.tuwien.ac.at/
.
---